My Blog
Posts for: October, 2017
By Robbinsdale DentalCare
October 28, 2017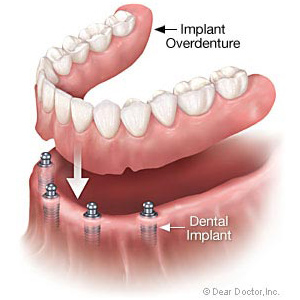 If you've had the misfortune of losing all or most of your teeth (a condition called edentulism), you still have effective options for restoring lost form and function to your mouth. There is, of course, the traditional removable denture that's been the mainstay for edentulism treatment for decades. If you haven't experienced significant bone loss in the jaw, though, a fixed bridge supported by titanium implants could be a better choice.
But what if bone loss has ruled out an implant-supported fixed bridge? There's still another option besides traditional dentures — a removable "overdenture" that fits "over" smaller diameter implants strategically placed in the jaw to support it.
A removable, implant-supported bridge offers a number of advantages for edentulism patients with significant bone loss.
Speech Enhancement. Any denture or bridge supported by implants will have a positive impact on speech ability, especially involving the upper jaw. But patients who've previously worn removable dentures may not see a dramatic difference but will still be able to benefit from the greater stability of the denture, particularly if the dentures were previously unstable.
Hygiene. A removable denture allows better access to implant sites for cleaning. Better hygiene reduces the risk of gum disease and further bone loss.
Long-Term Maintenance. Regardless of which type of implant supported restoration is used, it will eventually require some maintenance. A well-designed removable overdenture can make any future maintenance easier to perform.
Aesthetics. For personal satisfaction, this is often the ultimate test — how will I look? As a product of the evolving art of facial aesthetics, removable dentures supported by implants can replace lost tissues and restore balance to the face, and often produce a remarkable smile "makeover."
To find out which restoration option is best for you, you should first undergo a thorough examination to determine the status of your facial and jaw structures, particularly the amount of bone mass still present. Ultimately, though, the decision should be the one that best fits your functional needs, while fulfilling your desires for your future smile.
If you would like more information on tooth restoration options, please contact us or schedule an appointment for a consultation. You can also learn more about this topic by reading the Dear Doctor magazine article "Fixed vs. Removable: Choosing Between a Removable Bridge and a Fixed Bridge."
By Robbinsdale DentalCare
October 13, 2017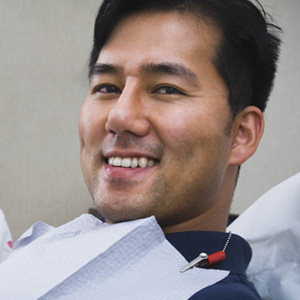 The next time you visit your dentist you might see an item quite different from the other dental instruments and equipment in the office: a blood pressure cuff. Checking blood pressure is becoming a more common occurrence in dental offices across the country.
Abnormal blood pressure and some of the medications used to treat it are often a factor in some dental procedures, particularly if anesthesia is involved. But your dentist may also check your blood pressure for another reason: dental visits represent another avenue to screen for this condition that increases the risk of serious health problems.
Undiagnosed high blood pressure is a prevalent but often "silent" problem because the early stages of the condition may not display any symptoms. Many people first become aware they have an issue only after a blood pressure check at their family doctor, pharmacy or a health fair, for example. Otherwise, they could go months, even years without this vital knowledge about their health.
But while people may only visit their doctor once a year (or less) many see their dentist much more often, even twice a year, for routine cleanings and checkups. Including blood pressure screenings as a routine part of dental treatment could alert patients to a potential issue much earlier than their next doctor's visit.
In fact, one study published in the Journal of the American Dental Association looked at a group of dental patients with no reported heart disease risk and who had not seen a doctor in the twelve months before their dental visit. During their visit their blood pressure was checked. Of those then referred to a physician for an abnormal reading, 17% learned for the first time they had an increased risk of cardiovascular disease.
It's estimated about 80 million Americans have some form of cardiovascular disease and many don't even know it. Diagnosing and controlling high blood pressure is a key factor in treating these life-threatening conditions. And many dentists are joining the fight by making this simple screening method a part of their dental care services.
If you would like more information on blood pressure screening, please contact us or schedule an appointment for a consultation. You can also learn more about this topic by reading the Dear Doctor magazine article "Monitoring Blood Pressure: What you don't know can hurt you."