My Blog
Posts for: November, 2014
By Robbinsdale DentalCare
November 19, 2014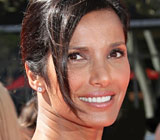 Before she began hosting the long-running TV competition Top Chef, Padma Lakshmi was a well-known model and successful cookbook author. (Appropriately, she is said to have been "discovered" by a modeling agent while sitting in a café in Madrid.) Yet the Indian-born beauty's striking look — at once exotic and familiar — doesn't come from any cookie-cutter mold.
So when Lakshmi had cosmetic work done on her teeth, early in her career, her dentist didn't use a cookie-cutter approach either: Instead, her smile was carefully designed, using small amounts of bonding material to brighten her teeth and to bring their shape and spacing into harmony with her facial features.
Dentistry by Design
What exactly is smile design — and what could it do for you? Essentially, it's the process of evaluating your smile in concert with the appearance of your entire face, and visualizing the changes — some dramatic and some subtle — that will make it really shine. Some aspects we consider include the face's shape, the proportion or "balance" of facial features, the complexion, eye and lip color and form, and the overall dimensions of the smile.
Based on dental aesthetics and clinical experience, we will probably have a number of suggestions to make on how you can improve your smile. Your input will also be very important; while some individuals prefer perfectly even teeth and a sparkling "Hollywood white" smile, others are looking for a result that's more in keeping with a "natural" look: slight irregularities in tooth shape, spacing, and even color.
There's no right or wrong answer here: Having a "perfect" smile means what's perfect for you, so it's very important for dentists and patients to communicate openly during the smile design process. But sometimes, words alone just aren't enough to convey the subtle dimensions of beauty.
The Trial Smile
Fortunately, it's now possible to preview your "perfect" smile using a number of different techniques. Advances in computer imaging make this the first step in previewing your new smile — you can see the changes before a single tooth is touched! Still, many people find that having a more concrete picture is helpful. The next step is to make a 3-D mock-up the proposed dental work on an actual model of your mouth. That way, you can see a physical representation of the final results — and even turn it around and hold it in your hands.
There's still one more way to really experience the difference cosmetic treatments can make without committing to a permanent change: the provisional restoration. Here, tooth-colored bonding material and other techniques are used to actually create the new smile — temporarily. This gives you time to "live with it," and see if the proposed changes work for you. If everything goes well with the provisional work, the permanent restoration is guaranteed to please.
So if you want holiday treats, get out the cookie cutter — but if you're looking for a smile that's uniquely yours, and one that enhances your own individual appearance… call our office and ask about a smile design consultation. You can learn more in the Dear Doctor magazine articles "Great Expectations — Perceptions in Smile Design" and "Beautiful Smiles by Design."
By Robbinsdale DentalCare
November 04, 2014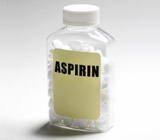 Acetylsalicylic acid (ASA), better known as aspirin, is an effective pain reliever and fever reducer. More recently, its anti-inflammatory properties have become part of the management of cardiovascular disease. But while regular use may benefit your general health, it could complicate your dental care.
Aspirin helps reduce inflammatory pain or fever by blocking the body's formation of prostaglandins, chemicals that contribute to inflammation after trauma or injury. It also prevents blood platelets from sticking and clumping together. While this can prolong normal bleeding and bruising, it also helps the blood move freely through narrowed or damaged blood vessels, which reduces the risk of heart attack or stroke in at-risk cardiovascular patients. Due to side effects from prolonged aspirin use like kidney damage, stomach bleeding, or ulceration, physicians normally prescribe a low aspirin dosage (81 milligrams) to minimize these effects.
Because of its effect on bleeding and clotting, it's important that every member of your healthcare team — including your dentist — knows how much and how often you take aspirin. The change it causes in your body's clotting mechanism may also affect how dental procedures are carried out; by knowing you take aspirin regularly we can take extra precautions to ensure your safety.
In fact, if you've been prescribed aspirin for a heart condition, you may be tempted to stop taking it before a dental procedure out of fear of profuse bleeding. This is highly unadvisable — the sudden discontinuation could increase your risk of heart attack, stroke or even death. You should only discontinue aspirin treatment at the direction of your prescribing physician.
Another aspirin-related effect may involve your gums and other soft tissues. You may notice gum tissue bleeding after brushing or flossing; while this is normally a sign of periodontal gum disease, it could also be the result of your aspirin therapy. The only way to know for sure is to schedule a visit with us to examine your gums.
When it comes to aspirin or other blood-related therapies, the key is to communicate your health status with us, including all medications you are taking. With that knowledge we can provide you with the most informed and safest dental care we can.
If you would like more information on the effects of aspirin on your dental care, please contact us or schedule an appointment for a consultation. You can also learn more about this topic by reading the Dear Doctor magazine article "Aspirin: Friend or Foe?"