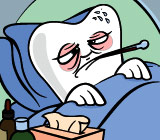 One of the most common treatments we are asked about is a root canal and the unfortunate bad reputation associated with it. The truth is that the procedure actually relieves the pain associated with the problem and not visa versa. And here's why.
A root canal or endodontic treatment ("endo" – inside; "dont" – tooth) is a necessary procedure in which diseased pulp tissue — and the nerve, which responds by causing the pain — is removed. This is followed by cleaning and sealing the root canals. This usually results from pulp inflammation and infection as a result of a severe decay or in a heavily filled tooth. Root canal treatment is typically performed by general dentists who have taken specialized training or by endodontists, dentists who specialize in the diagnosis and treatment of root canal problems. We perform them here in our practice to save a tooth, literally, from further damage and/or loss.
Here is a quick overview of the procedure. We will begin by making a small opening in the chewing surface of your tooth so that we can access the tooth's root canal. We use small instruments to remove the dead and dying tissues of the pulp. The root canals are cleaned and disinfected. The canals are then sealed with a biocompatible filling material. Lastly, we will seal the access hole with a filling material. You will then need to get a permanent restoration or crown to protect the tooth fully.
If you feel that you have the symptoms of a root canal problem and may need a root canal treatment, contact us to schedule an appointment. And to learn more about the signs, symptoms, and what to expect after root canal treatment, read the article "Common Concerns About Root Canal Treatment."